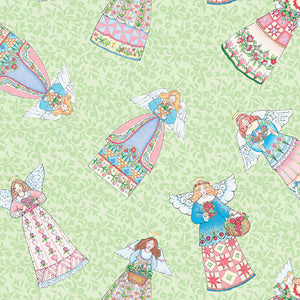 Garden Angels Toss Green by Jim Shore.
Angels are one of artist Jim Shore's most popular themes, and his Garden Angels collection centers around these symbols of light and love. The panel, border stripe, and all-over print are awash with angels bringing you tidings of peace and harmony. And the coordinates are simply lovely, birdhouses and florals in springtime shades. We think you'll love the quilted geo print – it is featured in many of Jim's works! Blend them all together to create keepsakes for your friends and loved ones! 
Size choices include:
One yard by 42" wide
Half Yard
Fat Quarter.
All of Jim Shore's fabrics are made of 100% high-quality cotton.