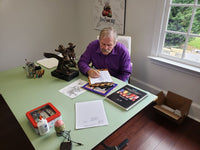 A new place to explore
Welcome to the creative world of the Shore family. This is a new place to discover fabrics, art prints, hand-carved gifts, books, and so much more. We are glad you are here!
Learn More
There is something quintessentially moving about the art of Jim Shore. Jim's ingenuity and passion carves masterful stories of faith, family and friendship in each piece. Quilting a legacy of tradition with his heart, his character and his undeniable charm indelibly embraced by fans worldwide.

Julie B.
Jim Shore not only creates and brings our favorite characters to our homes with his beautiful designs he also creates a community bringing fans together and invites us to be part of his story.

Danny F.
Jim's designs are part of our home and every celebration!

JoAnn B.