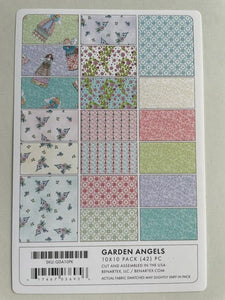 Angels are one of artist Jim Shore's most popular themes, and his Garden Angels collection centers around these symbols of light and love. The panel, border stripe, and all-over print are awash with angels bringing you tidings of peace and harmony.

Use this collection to create everything from quilts, pillows, home decor projects and more.

Fabric bundle of 42 10-inch squares from the Garden Angels collection by designer Jim Shore for Benartex. 
10X10 Pack (Charm Pack) includes 42 10-inch squares

100% Cotton; premium high-quality fabric