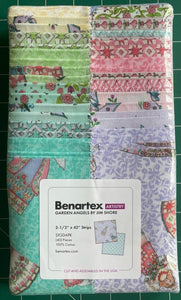 Lovely assortment of Strip-Pies from Jim's Garden Angels fabric. Each pack has 40 different fabrics with shades of blues and greens, burgundy and tans. Each strip measures 2.5" x 44". 
Angels are one of artist Jim Shore's most popular themes, and his Garden Angels collection centers around these symbols of light and love. The panel, border stripe, and all-over print are awash with angels bringing you tidings of peace and harmony.
 All of Jim Shore's fabrics are made of 100% high-quality cotton.