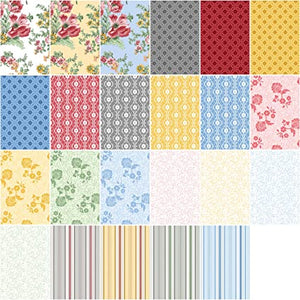 Lovely assortment of Strip-Pies from Jan's French Romance collection. Each pack has 40 different fabrics with shades of pink, yellow, cream, and blue. Each strip measures 2.5" x 44". 
The deep and storied history of France comes to life in Jan Shore's latest collection. History is often romantic, and the classic large bouquets of summertime blooms will have you falling in love! Add in delicate florals, dynamic geometrics, and stately stripes and you can create a true "pièce de resistance" for your home. Quilts, pillows, window treatments – the amour will be felt in every project you create.
All of Jan Shore's fabrics are made of 100% high-quality cotton.